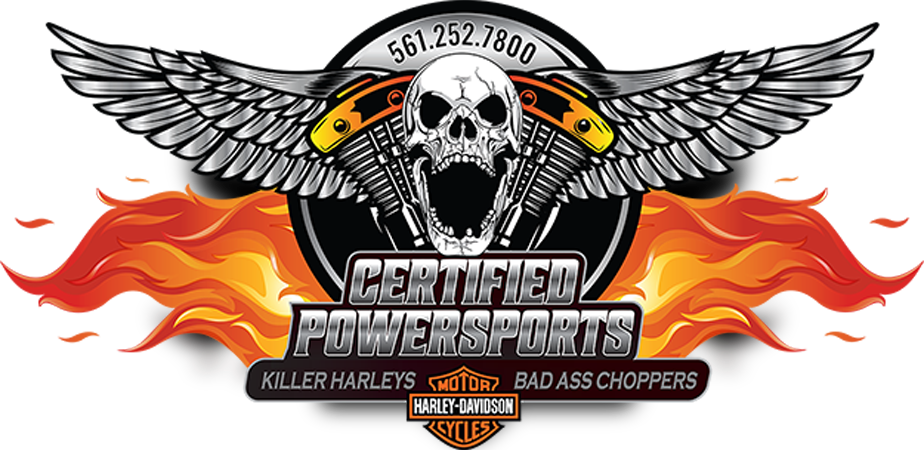 "We won't sell a motorcycle that we personally would not ride - period."

Testimonials
When we can make a customer happy with an easy pressure free purchase - we have done a good job, Our quality motorcycles have made a lot of our customers very happy! View some recent testimonials from our satisfied Certified Power Sports customers below:
---

I bought a Harley Davidson Heritage motorcycle from Jim at Certified PowerSports, Inc. After speaking to Jim over the phone, hearing his in depth description of this bike, I bought it sight unseen. Jim delivered it to me a few days later. My Harley Davidson Heritage is exactly, if not better, than Jim's description. Jim made the whole buying experience effortless! I would highly recommend Jim's services to anyone. Thanks again!
---

2016 Harley Street Glide with 6000 miles, mint, mint, mint. Smooth transaction with very honest seller. Great guy!
---

A Really Good Deal on this Anniversary Harley Softail, Certified Powersports is Really Great Seller, Many Thanks!
---

Thank you Jim great doing business with you. Love the 2014 Harley Bobber! Very easy transaction
---

Thanks for Shipping the Fantastic 2009 Harley-Davidson Ultra Glide all the way down under Australia! Jim you are a Great Guy! Good communication! Recommend highly!
---

Just want to let you know Jim you're the very first person and all the years of buying vehicles that I never had to ask to lower the price 2009 Thunder Mountain Chopper, I think that you gave me 100% value for what you were asking for I love the bike but having a blast thank you very much!
---

I was reluctant to do business out of state "Ohio" but Jim is a true professional. He delivered a quality product 2016 Harley Davidson Street Glide as promised in excellent condition. I would recommend him to anyone looking for a quality motorcycle. Don't be limited by your local dealer !
---

Easy Transaction to Aruba, Thank you, Very Nice Springer
---

Buying the 2009 Big Dog Chopper was easy and Jim even rearranged his plans for me to pick it up!
---

Great seller. Fast and accommodating. The bike 2014 Harley Wide Glide even looked better in person
---

Great communication, very satisfied with the Harley Davidson Heritage Classic, smooth transaction
---

Awesome seller , just as mint as described and did deliver Fantastic HD Road King. 5+++++
---

This was a great and simple process on my 2017 Harley Street Glide, I highly recommend this Dealer!
---

Jim's a Great Guy!! Whole Experience was Awesome!! My New American Ironhorse Chopper Rocks!!! Thnx Jim!!
---

AAAA++++ Jim delivered the most beautiful HD Road Glide! Great seller Highly Recommend!!!!
---

The 2014 Harley Deluxe Was As described with fast shipment and great communication. Thanks Jim !!!!
---

Excellent seller, accurate description on the 2017 Harley Davidson Street Glide super easy to deal with – best bike ever!
---

I purchase a Harley Davidson Ultra Classic from Jim at Certified Powersports. I found the owner to be very honest and the motorcycle has performed beautifully. I would deal with Jim again.
---

Jim, How nice it was to deal with your expertise and courtesy that you gave to me. The Harley-Davidson Dyna Wide Glide I purchased from you was and is as pristine as you told me it was. I love riding again, after a long time of not riding. I would tell anyone that is looking for a motorcycle to contact you.
---

Super Custom Harley FATBOY Bike screams.. Don't Tread on Me. Certified Powersports is an Excellent seller w/great communication. Thanks!
---

Hey Jim, Just wanted to let you know the Jeep Wrangler Sahara you shipped me is Better than described! Everybody loves it including My mechanic. I am really happy with it. I was able to buy an extended warranty from jeep, because of the low miles. Your professionalism was Fantastic! Low Price on shipping Florida to Ohio! Thanks again!
---

From start to finish, Jim at Certified Powersports walked me through the whole process of purchasing my vehicle. From his search, locating and negotiating the purchase price his dedication and professionalism was evident in each step of the transaction. I would highly recommend Jim in the purchase of your next vehicle.